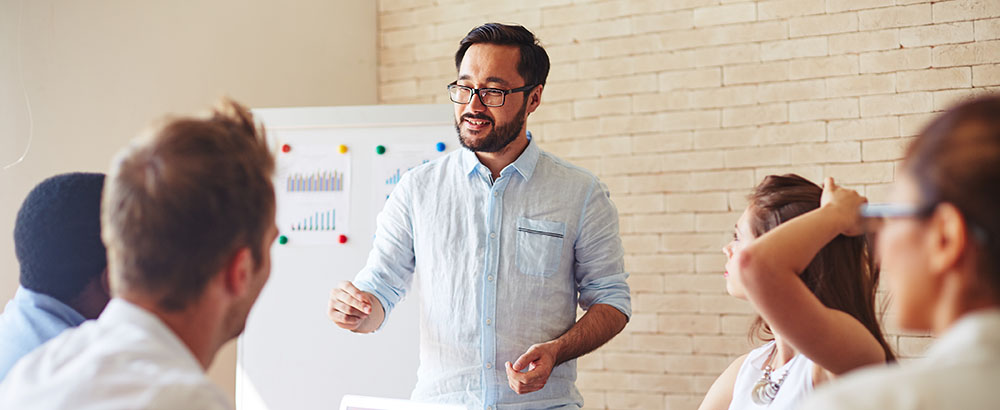 Rising healthcare costs, effects of national healthcare legislation, and concerns about employee health and productivity are just a few reasons why more and more organizations are looking to implement wellness programs.
By fostering healthier lifestyles and promoting the value of staying well, organizations are learning that they can slow the pace of rising health insurance premiums and improve the attendance and productivity of their employees—particularly those with chronic conditions.
But to achieve this healthy ROI, they need qualified professionals with the training to build engaging and effective health and wellness programs that have a beneficial and lasting effect on both the organization's culture and profitability.
Mike Olson, co-founder of Advantage Health Corporation, attributes the increased value of wellness professionals to a shift in the motivation of job candidates:
"Unlike job candidates in the past, the new generation of quality employees isn't focused on getting the highest salary. Today, smart companies like Google and Facebook know that to retain talent, they need to provide a positive, engaging lifestyle."
Health and Wellness Careers Outlook
The careers outlook for health and wellness professionals with the required knowledge and skills is positive. A January 2015 Time article states that "health and wellness educator" is one of 2015's five fastest-growing, highest-paying jobs hovering just below the national radar.
The U.S. Bureau of Labor Statistics predicts a growth trajectory of 13% by 2024, a rate that's faster than average across industries.
Health and wellness professionals may find employment in a variety of settings, including:
White-collar businesses
Blue-collar manufacturing facilities
Community agencies
Insurance companies
Healthcare systems
Stephanie Pereira Da Silva, health and wellness manager for Kimberly-Clark Corporation, gives insight on the industry's growth potential:
"The wellness career outlook is positive and growing. From fitness-focused careers to corporate wellness planning, job trends within the industry are constantly changing and developing. In many companies, wellness is managed by human resources, giving candidates with a health and wellness degree an opportunity to take the reins and broaden or expand the programs."
Workplace Wellness Job Titles and Salaries
According to the 2013 WELCOA National Wellness Compensation Survey, the median salary for worksite wellness and affiliated health management personnel was $55,000. Job titles in this field vary widely. Some examples:
Corporate wellness administrator ($48,000–$66,000)
Director of fitness/wellness ($66,000–$92,000)
Wellness program manager ($66,000–$90,000)
Health educator ($45,000–$70,000)
Community health and wellness director ($85,000–$125,000)
Salary range source: Salary.com
Additional job titles related to health and wellness include:
Health management consultant
Health promotions adviser
Health improvement manager
Health and productivity analyst
Life enrichment coordinator
Director of health promotion
See our Health and Wellness Jobs page to get an idea of health and wellness jobs available today.
New Health and Wellness Career Opportunities
The updated healthcare regulations are putting the focus on employee health beyond individual corporations. Two promising areas of expansion for 2015 and into 2016 are collegiate wellness and property management.
Two promising areas of expansion for 2015 and 2016 are collegiate wellness and property management.
Healthy Campus 2020, an organization focused on improving the health of all Americans over the next ten years, has unveiled wellness programs on 21 college campuses across the country. Its multi-year programs aim to improve student, faculty, and staff health and wellness. Expect to see increased opportunity for job placement as more campuses find value in these programs.
The wellness industry is also making gains in the corporate world. Smart property management companies realize that their units will be most profitable if they provide their clients with the tools they need to succeed individually. Rather than focusing on wellness programs within individual companies, wellness professionals can capitalize on this development and propose features such as on-site fitness centers, healthful cafeteria space, and more—on a larger scale.
Gain the Knowledge and Skills You Need for an Exciting Health and Wellness Career
The online University of Wisconsin Health and Wellness Management bachelor's and master's programs are designed to create competitive candidates in this expanding field. In addition to the standard coursework, graduates have the opportunity to apply their knowledge in the health and wellness field as part of the required capstone courses, which provide 100 hours of field work in a professional environment. This gives UW students a competitive advantage over graduates of other programs, many of which don't facilitate such real-world experience in their curriculums. According to UW advisory board member Michaela Conley, CEO and founder of HPCareer.Net, "UW students aren't just passive receivers of information; they're hands-on practitioners, capable of performing real-world tasks right out of school!"
In the video below, UW Health and Wellness Management faculty further discuss the practical benefits of the bachelor's degree program.
Take the Next Step
Ready to explore the UW Health and Wellness Management program? Start here.
If you have questions about the program, such as how to apply or which courses you'll take, our advisers would be happy to answer them. Call 1-877-895-3276 or email learn@uwex.edu.