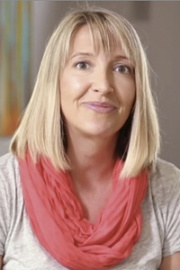 In our last blog post, we highlighted some of the ways instructor Erin Ratelis and our course designers keep online students engaged in workplace wellness classes. Now, we want you to hear from Erin herself about what it's like to be an online instructor. Here's what Erin has to say about designing her course, teaching online, and what she'd like to try next. You can learn more about Erin by reading her faculty bio.
When you developed the Worksite Health Environment course, you were a first-time online instructor. Can you tell me about your approach to developing a workplace wellness course for the first time?
Yes. First, I identified the objectives for the program and then worked through my curriculum flow. Once I identified all the workplace wellness topics I wanted to cover, I was able to bite-size them into weeklong formats. Then the fun really began—thinking about creative, experiential ways to supplement the content.
What did you learn after the first offering of the course?
I learned that students really enjoy the nontraditional elements of the course, for example, field trip-based learning and book clubs.
How did you come up with the ideas for some of the learning activities in your course? What was your inspiration?
My inspiration is always "outside in" thinking. I like exploring fields outside of workplace wellness for inspiration (like consumer marketing, architecture and design, or behavioral economics). Also, I do my best to come up with ways that help students experience the academic insights from the course in a very tangible, real-life way. An example is the engagement activities in which they assessed their own home health environment or took a field trip to a favorite store to see how retail marketers leverage the environment to influence purchase decisions.
Can you talk about the design of the final project and your use of milestones?
Milestones were deliberately set as part of the final project from day one and that proved to be a very solid decision. They allow me to give students feedback every step of the way. My students turn in more thoughtful, high-quality final projects because of the milestone approach. I don't want a student to score poorly just because he or she doesn't fully grasp the final project requirements. I take a fairly prescriptive approach and guide students every step of the way.
What's your favorite activity in the course? What about your students?
One thing I enjoy doing is emailing my students weekly doses of "inspiration"—I find news articles that support class learnings. I like to make things as current as possible for the students. On their end, the students really enjoy book club and being able to read a non-textbook.
Is there anything you're curious about or want to try in your course, but haven't had the time yet?
I'd like to try a live session with students—perhaps present a mini-lecture or engage in a Q&A session. It's very important to me that I really get to know my students, and this is a great way to dig in deeper!
Download your guide for the bachelor's, master's, or certificate program.
UW Extended Campus will not share your personal information. Privacy Policy
Interested in a career in workplace wellness? 
Prospective students seeking more information about the University of Wisconsin Health and Wellness Management program are encouraged to visit the program webpage, call 608-262-2011, or email learn@uwex.edu.