What are UW Health and Wellness Management courses like? We created this post to give you an inside look at the bachelor's course, "HWM 335: Worksite Health Environment"—and to answer some questions you may have.  
Download your guide for the bachelor's, master's, or certificate program.
UW Extended Campus will not share your personal information. Privacy Policy
What do I learn in the course?
This online course examines the workplace environment's influence on daily health decisions and focuses on practical, contextual levers of behavioral change. Students study behavioral economics and consumer marketing and explore environmental assessment tools, active design principles, workplace policies, supportive research, and real-world examples.
This course has 12 lessons covering topics such as behavioral economics, behavior change, biases and barriers to change, environmental assessment tools, and health-enabling policies. Lessons consist of lectures, readings and other media, discussion prompts, quizzes, and a final project.
What are the lectures like?
After you enroll in "Worksite Health Environment," you can log in to the learning management system to access course content. The lectures are hosted in Storybook+ media player and contain rich media content—slides, animations, videos, and instructor narration. You can listen and replay lectures as many times as you wish.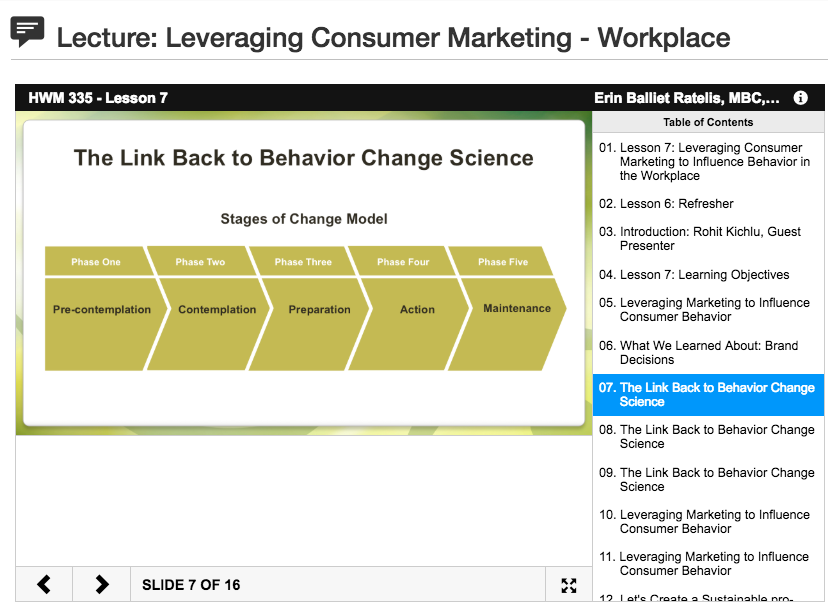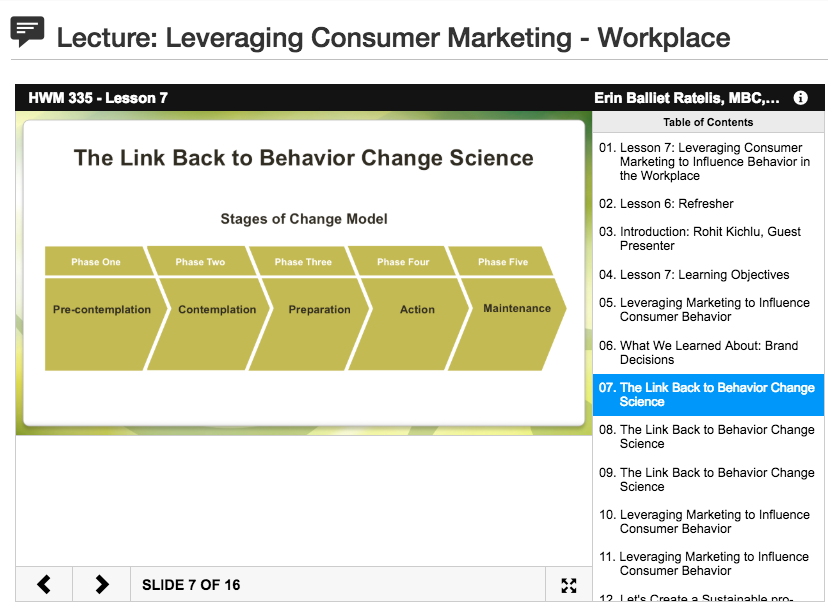 Some lessons have video content featuring interviews with real-life professionals about the wellness initiatives at their own workplaces.
What else do I do in the course?
Learning material. The instructor for this course chose selections of textbooks, articles, and videos to support and build on learning objectives and inform students of the most recent research and insights in the field of behavioral economics.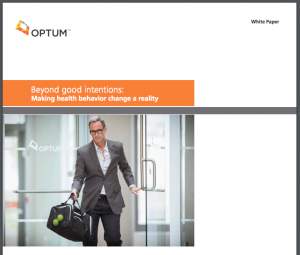 Discussion posts. For this course, the instructor and course designers wanted to think outside the box and create coursework that encourages students to feel connected to their education. So, in place of traditional assignments, you participate in weekly discussions with your peers. Here's an example of a prompt from "Lesson 4: Novel Levers of Behavioral Change":
"Imagine yourself as a health architect. If you could change anything about your environment at work, home or community, what would it be? What behavioral lever would you incorporate into your change strategy? For example, you could use defaults in the workplace cafeteria to give everyone vegetables as a side instead of french fries."
Book club. In this course, students read Nudge, a book about behavioral economics written by a Nobel Prize winner. Each week, three to four students facilitate a discussion on a new chapter.
Quizzes. You take several graded quizzes in this course to assess learning.
Final project. Students apply everything they learn in the course to a final project involving a fictional workplace that's trying to foster a healthier environment for its employees. You play the role of wellness consultant. The final deliverable is a strategic document for the client.
See the full course syllabus for more information.
Who developed the course?
Erin Balliet Ratelis, an instructor for UW-La Crosse, originally developed the content for "HWM 335: Worksite Health Environment." Faculty work with an instructional design team and industry advisory board to ensure that the course remains up to date and aligned with employer needs.
Do students in the course interact?
Yes. Students interact and share ideas through discussions in the learning management system. Early on in this course, students are asked to share photos of their health environment on the discussion board. This activity serves as an intro to health environment but also helps students bridge the gap of online learning and get to know their peers.

How much do I do in one week?
Generally, you need to complete one lesson per week. You have seven days to complete readings and other learning materials, lectures, assignments, and discussion posts. (If you take the course during summer term, the timeline is accelerated, and you may complete multiple lessons per week.)

The curriculum is as intensive as any University of Wisconsin program—on campus or otherwise. Some students put ten to 12 hours of work into one course each week. But that number varies widely depending on how much experience they bring to the program. Although the program requires a serious time commitment, the flexible, online format allows you to study early in the morning, late at night, or whenever works best for your schedule, making it ideal for those who work full time.
You can earn a bachelor's degree or a master's degree in Health and Wellness Management online. Have questions about courses, how to apply, home campuses, and more? Our enrollment advisers can help.

Call 608-262-2011 or email learn@uwex.edu.