By Theresa Islo, program manager for UW Health and Wellness Management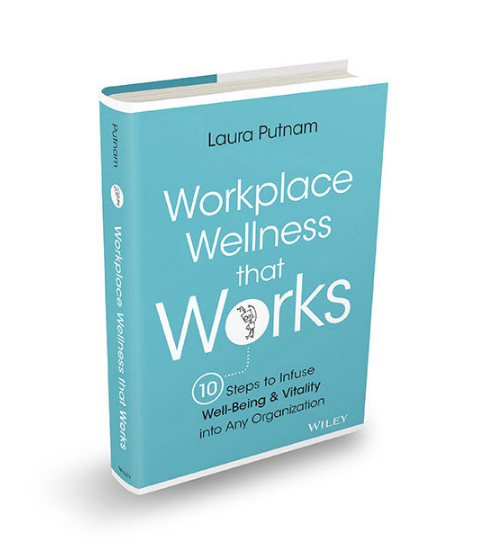 Workplace wellness programs have become standard fare in most organizations, says author and wellness consultant Laura Putnam. According to the 2013 RAND report, more than 75 percent of employees in the U.S. have access to wellness at work. And the report also states that employers overwhelmingly believe that their programs are having a positive impact. Yet, a 2016 survey from Welltok and National Business Group on Health reports that less than 40 percent of employees join their program.
According to Laura, the CEO and founder of Motion Infusion, the classic model is not working well enough and she argues that workplace wellness program success is within reach. Her advice? Organizations must reshape the work environment to one where the healthy choice is the easy choice. Laura's advice is backed by real-world examples and comes after studying the best workplace wellness programs in the nation.
As the head of University of Wisconsin Health and Wellness Management, I've been inspired by Laura's advice. Her #1 tip: instead of creating another program, Create a Movement. The way one workplace wellness manager can make a difference is to Start a Movement. A movement, as opposed to a program, is all about integration and can permeate throughout an organization. This is critical. 
You may be asking, how or where do I start? Laura's book, Workplace Wellness That Works, offers nearly 300 pages of advice on how to start the movement, build the movement, and make it last. It is used as a textbook in our online master's degree curriculum. Her stories and insights have changed the way we approach wellness in our courses.
With permission from Laura, we've produced a practical guide that will inspire behavior change, offer the truth behind motivation, and give you tips on how to shift your organization's culture. The free white paper, offers a brief snapshot of her book.
We invite you to download this useful guide and Start a Movement. 
We are excited to help you Start a Movement.
Download your guide for the bachelor's, master's, or certificate program.
UW Extended Campus will not share your personal information. Privacy Policy
---
More Wellness Stories
How One Student Turned a Passion for Health and Fitness Into a Career in Corporate Wellness
Faculty Interview: Erin Ratelis Teaches Students The Principles of Workplace Wellness
One Student's Journey from Nutrition Enthusiast to Future Health and Wellness Program Manager