When you see a burger or a slice of pie, which of these is your first thought:
Looks delicious; must eat now
I probably shouldn't *
What's in this food?
*But you eat anyway
If you chose number three, then you have something in common with Cynthia Okeleye. She enrolled in the University of Wisconsin Health and Wellness Management program a year and a half ago, but she has been fascinated with nutrition for much of her life.
"I think it's important to know the whole process food goes through before it ends up on our plates," she says. This interest is one of the driving forces that set her on the path to become a health and wellness manager.
Download your guide for the bachelor's, master's, or certificate program.
UW Extended Campus will not share your personal information. Privacy Policy
A passion for nutrition
"I fell into it, really," Cynthia says of her career. But if we rewind all the way back to high school, she was a health advocate then, too. Her way of staying fit was not sports but working out on her own. It still is today.
"I think it's important to know the whole process food goes through before it ends up on our plates."
"I am really into strength training. I notice women don't really lift weights at the gym. I enjoy competing with the guys because they don't expect to see a female lifting!"
Her love of health and nutrition led her to UW-Madison, where she majored in food science. One thing people may not realize about food science—it's extremely technical. The program included a lot of biology and chemistry related to food manufacturing.
To get experience, Cynthia took a summer job at Babcock Dairy Plant on campus, a dream job to an ice cream lover. Producing cheese, milk, and dairy was anything but, she says.
"I worked with food technologists and researchers on projects, such as designing different ice cream flavors and learning how to make cheese, but it was mostly manual labor."
That kind of work at Babcock—using machines to heat milk and running it into tubs, pressing and kneading cheese by hand, and delivering the products to campus stores and residence halls—and the intense science courses ultimately convinced her to leave food science for a different degree program.
Finding the sweet spot
Cynthia lives in the Twin Cities now. When she has spare time, she loves cooking and watching the Food Channel. Her favorite show is Chopped. "I love seeing what the competitors do with the secret ingredient!"
"The UW Health and Wellness Management program is not just about the science of health—it's more about the social aspects of health, relationships, and being able to relate to people."
After she left Madison and began the search for another degree program, she felt a lingering need to learn about food. She picked up a UW-River Falls course catalog and found the online UW Bachelor of Science in Health and Wellness Management, a collaboration between UW-River Falls and UW Extended Campus.
It was perfect for her.
The program offers a well-rounded curriculum in which students learn about everything from human behavior, anatomy, and health coaching to program design, marketing, and management skills.
"The UW Health and Wellness Management program is not just about the science of health—it's more about the social aspects of health, relationships, and being able to relate to people."
The program changed her views about wellness. Cynthia used to think it was "exercising, eating right, and getting enough sleep. Now, I know that aspects we don't usually see—spiritual, occupational, financial, social, mental—also contribute to the entire well-being of a person."
Prepared to step in as wellness program manager
Cynthia says, "There are so many career opportunities for people in this field. The program is great for those who are looking to get their foot in the door."
Her ultimate career goal is to be a wellness program manager who shapes and designs programs that are most needed in a community or company. She also wants to work hands-on with people, rather than behind the scenes. "I am a very social person; I love to talk and communicate with others, to know what they are going through, and how I can help them."
Right now, she is an intern at the Woodbury YMCA in Minnesota and helps design family initiatives through the LiveStrong program. She has coordinated and participated in activities such as a derby race for kids and an annual fundraiser for YMCA camps and classes. She also worked with the local elementary school on an initiative called the Family Mealtime Challenge. "We reached out to students about eating healthy meals with their families."
Working with children and seniors is what excites Cynthia most; the youngest and oldest people are usually the least aware of how exercise and healthy eating can benefit them.

Flexible, online format helps her balance a busy schedule
Between her schoolwork, the internship, working part time at Allstate Insurance—an agency her family has owned for almost 25 years—and other commitments, Cynthia is extremely busy.
She dances and is the choreographer for a group called We Are 1, which does shows on the UW-River Falls campus. She's responsible for her younger brother and sister while her parents are at the office. Both siblings are enrolled in sports, so she has to make sure they get to practices. On weekends, she is an instrumentalist at church.
She is a modern-age superwoman, but being so busy can take a toll. "It's hard to juggle everything. I get really stressed out sometimes, but I make it work. My motto is, 'Where there's a will, there's a way!'"
So, how does she manage it all and earn a degree? "The best thing about the UW Health and Wellness Management program is the flexibility of the online format. It is very convenient and helps me balance my schedule."
Cynthia designates weekends for homework, which lightens her load during the week. She is able to stay more focused when she studies at home, which streamlines the process. "In a classroom, I couldn't keep up with notes, but at home, I can do schoolwork at my own pace."
Connecting with faculty and other future wellness program managers
Because she is a social person, Cynthia was apprehensive about feeling "alone" when taking online courses. Having a relationship with teachers has always been important—she values them as resources to go to for career and academic advice.
"The program is really rewarding, because I am still able to connect with teachers and classmates. I didn't think I would get that from an online class." She says she receives more positive feedback now than she did in front of a teacher.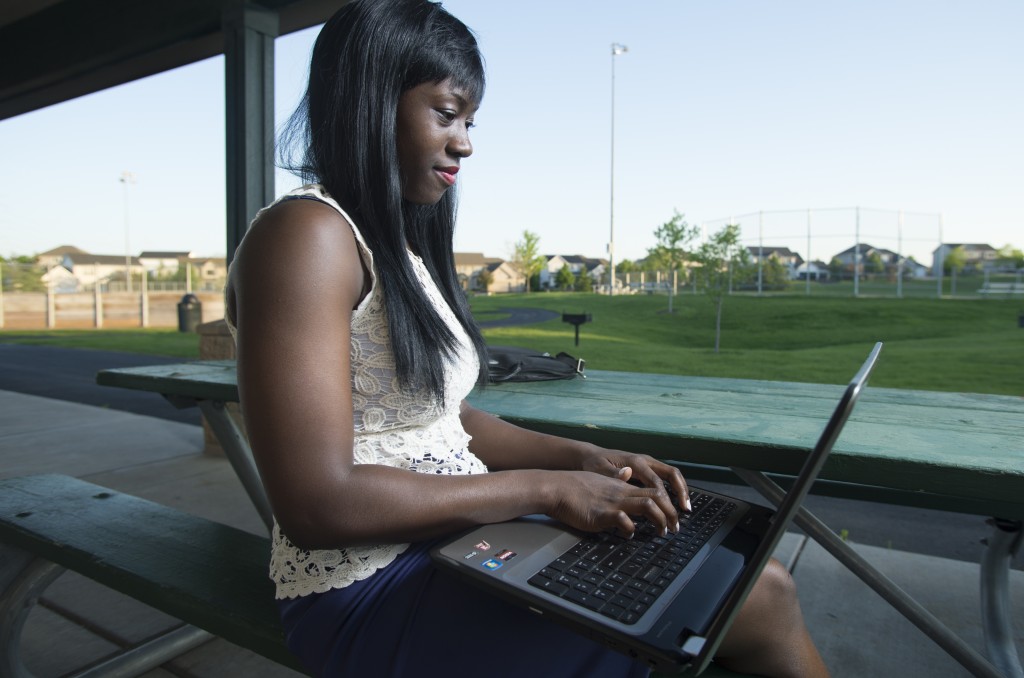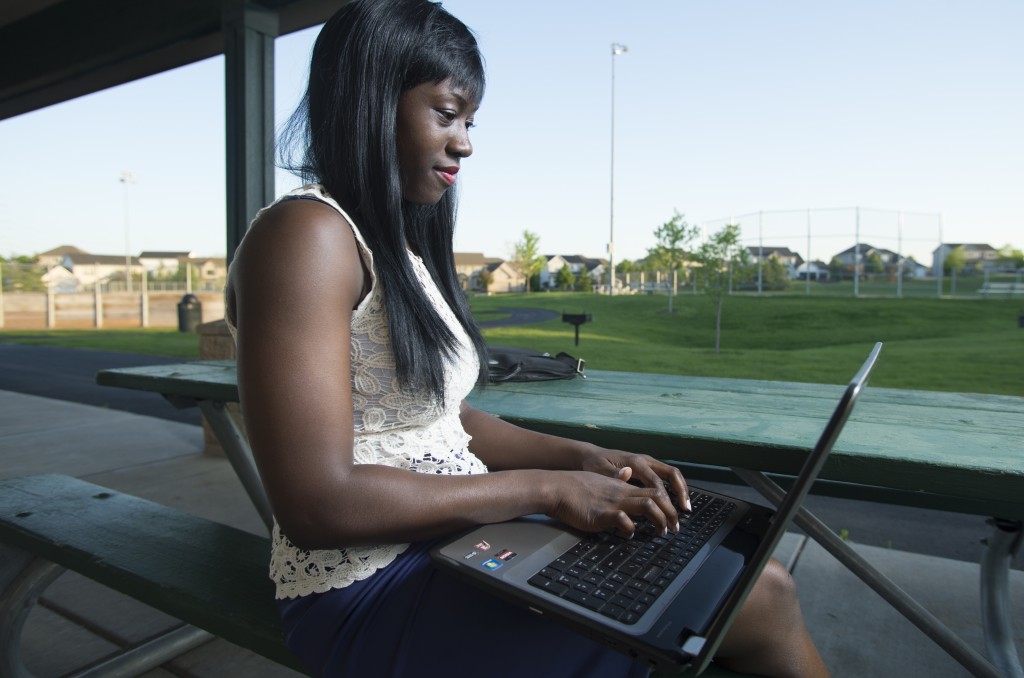 "The program is great for those who are looking to get their foot in the door."
One place she connects with professors and students is on the discussion board (housed in the online learning platform). Students feel comfortable sharing ideas and thoughts there, and though it took a little time, Cynthia started to see the same faces and build a relationship with them. "You pick up on the little things, like how they write and eventually, how they think and communicate."
Theresa Islo, the program manager of UW Health and Wellness Management, is proud to have students like Cynthia in the program.
"While Cynthia mentioned the high-quality instruction, it is the students themselves who contribute most to the rich experience our program affords. Each and every one brings a unique story and exceptional life experience to the program and thereby, each other," Theresa says.
Next stop: succeeding as a wellness program manager
Cynthia will finish her final semester in May. As graduation approaches, she is ready and excited to start her career. This spring, she interviewed for jobs specifically in senior wellness program development and hopes to have a full-time position soon.
In just a few months, she could be using her contagious passion and knowledge of wellness to help people better their lives—and maybe even get them to think twice about ordering that second cheeseburger.
---
Find out more about the UW Bachelor of Science in Health and Wellness Management and how it can help you take the next step in your career. Call 608-262-2011 or email learn@uwex.edu to talk with a friendly enrollment adviser today.
More health and wellness management stories
Health and Wellness Gave Her a New Beginning, and Now, a Career in Corporate Wellness
Be Proactive: Shaping Your Career in Health and Wellness Management
Changing Roles and Growing Opportunities in Health and Wellness Management