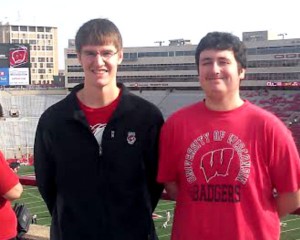 Editor's Note: Alan is now a Project Coordinator at Marshfield Clinic Health System.
Like many traditional students, Alan Kieffer entered college without a clear career path in mind. He was passionate about fitness and health, but he had no idea how to make the leap from healthy hobby to successful career in corporate wellness. After earning his associate degree from UW-Marshfield and dabbling in physical education courses at UW-La Crosse, Alan discovered the University of Wisconsin Health and Wellness Management program through an online search.
"I've always been interested in physicality and fitness," said Alan, "and I knew I needed to do something with a lot of career potential. It made sense to enroll in the UW Health and Wellness Management program." For Alan, this online degree program had two major appeals—it was a subject he could fully engage in, and it offered exciting career opportunities.
Download your guide for the bachelor's, master's, or certificate program.
UW Extended Campus will not share your personal information. Privacy Policy
Making gains with a robust corporate wellness curriculum
Alan's foresight proved accurate. Soon after he graduated in the spring of 2014, he was offered a job as fitness coordinator for Sentry Insurance, a corporation committed to offering its employees a superior quality of life.
Source: https://jobs.sentry.com/Who-We-Are/learn-about-sentry/wellness-center
Alan is excited about his work assisting Sentry employees in their wellness journeys, and he credits his premium job placement to the top-notch education he received while working toward his UW Health and Wellness Management degree.
"This degree prepares you for so many options and career paths."
The program's well-rounded curriculum provides students the skills and knowledge they need to build, promote, and maintain an effective corporate wellness program—everything from human anatomy and health literacy to marketing communications and research and statistics.
"I was impressed with the variety of different health and wellness topics and disciplines the program covers. This degree prepares you for so many career paths."
Online flexibility in the pursuit of a fitness profession
Between a full-time, variable-schedule job, a family, and a busy roster of sports and activities in his off time, Alan thought it would be hard to find time for schoolwork.
"Outside of work, I'm a huge sports fan. I love to golf, disc golf, play basketball. I think it's really important to be active." He's also a loyal fan of the Badgers, Packers, and Brewers—a full roster of spectator sports. So how does he fit it all in?
"The online format allowed me to do schoolwork when it was convenient for me."
"The online format allowed me to do schoolwork when it was convenient for me. I didn't have to worry about fitting work and activities in around school—I could fit school in when I wasn't working or enjoying other activities." Alan took to the online format much more easily than he expected. He was able to pace his work to meet his needs, and he welcomed the chance to exercise the self-discipline that will come in handy when he's motivating himself—and others—to reach their wellness goals.
Connecting with faculty and classmates
Alan was impressed with how well the online UW Health and Wellness Management program handled communication between students, faculty, and program advisers. Easily accessible discussion boards allowed students to come and go as needed and contribute once they'd had the time to develop an opinion—leading to a more considered, constructive conversation.
"The online discussion boards were a great way to get feedback and ideas from my instructors, as well as discuss and debate the many health and wellness issues that affect our lives and might come up in our careers."
And while group projects are always a unique challenge, Alan was pleased that the courses promoted an "in-this-together" mentality. As he made his way through the program, Alan built relationships with his fellow classmates. This collaborative and encouraging environment helped Alan think of his education as a team effort—a mindset he happily related to.
Because of the flexibility and straightforward design of the UW Health and Wellness Management program, Alan was able to graduate in only two years. Once he earned his degree, he found that the education he received had prepared him well for putting health and wellness theories into practice in the real world. "The program took these broad ideas and funneled them down into concrete skills that are of great value in the corporate wellness industry."
Making a difference with a career in corporate wellness
Alan is utilizing those skills in his role at Sentry. As fitness coordinator, he is responsible for the day-to-day operations of the corporate fitness center. A social person, Alan loves the daily interaction he has with customers and staff. Because the facility is only open to Sentry employees, retirees, and their families, he sees familiar faces on a regular basis and enjoys a bigger opportunity to make a difference in their lives.
"I'm in charge of scheduling and organizing group fitness classes. If I know my customers, I can track attendance and bring in different classes or instructors to meet their needs."
"I get to meet all kinds of different people, and there's really no 'normal' week—fitness is always changing!"
In the last session Alan organized, he featured classes such as Zumba, Core Stretch and Sculpt, Aqua Zumba and Fitness, and Butts and Guts, a workout focusing on core strength.
Another perk of a health and wellness career is the day-to-day variety of activities. "I get to meet all kinds of different people, and there's really no 'normal week'—fitness is always changing!" In the warmer months, when busy schedules naturally decrease gym participation, he likes to promote his programs and take advantage of beautiful weather. He recently led a Couch-to-5K course for employees interested in taking up running to enjoy the outdoors while maintaining their health and wellness.
Looking forward to a healthy future
Alan has high hopes for his future. His ultimate dream is to become a health and wellness director. With the strong foundation of a reputable University of Wisconsin bachelor's degree in health and wellness management, plus the experience he is gaining at Sentry Insurance, Alan is ahead of the game and gaining on his goals.
Want to start or advance your career in health and wellness? Find out more about the UW Bachelor of Science in Health and Wellness Management and how it can help you land your dream job. Call 608-262-2011 or email learn@uwex.edu to speak with a helpful enrollment adviser today.
More student stories
Student Dreams of Promoting Community Wellness Programs After Earning Health and Wellness Management Degree
One Student's Journey from Nutrition Enthusiast to Future Health and Wellness Program Manager
Health and Wellness Gave Her a New Beginning, and Now, a Career in Corporate Wellness